We are a proud supporter of KidsAndCars.org.
Please help them in their life-saving mission to keep kids safe!




Call Today To See What You Could Be Missing!
We are in the business of providing a safe environment for our children by making premium Rearview Backup Camera Systems and safety technologies accessible to everyone through direct sales, charitable donations, fundraising & Pay It Forward good will programs.


Want to Install Yourself ? Don't Live in the NY/NJ/CT/PA Area?
Backup4Safety.Com Web Store
FREE SHIPPING * LOW PRICES


Complete Backup Camera System
Only $189.99 INSTALLED*
Click for Details


Keep Our Children Safe
Avoid Tragedy Save Lives



3 Year Extended Warranty Coverage


The Easiest Way to Protect Your Purchase
Superior Warranty Protection for Total Peace of Mind



How Big Is
The Blind Zone
In Your Vehicle?
Courtesy of KidsAndCars.org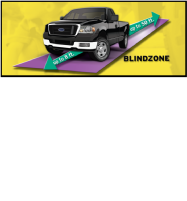 Photo courtesy of
KidsAndCars.org


$$$ Money $$$ Saving Coupon$ and Offer$ From Us and our Partner$
CLICK NOW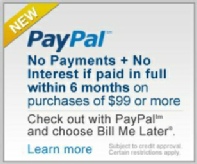 Gentex Automatic Dimming
Mirror Monitor Systems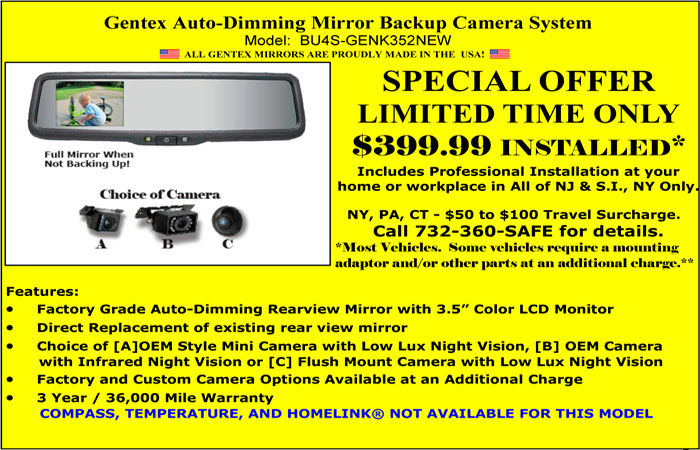 Gentex Auto-Dimming Mirror Backup Camera System
Model: BU4S-GENK332
ALL GENTEX MIRRORS ARE PROUDLY MADE IN THE USA!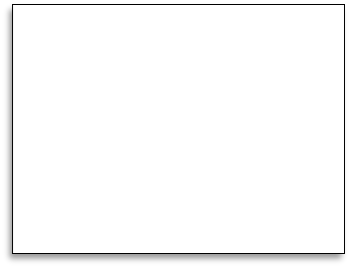 Features:
Auto-Dimming Rearview Mirror with 3.3" Color LCD Monitor

Direct Replacement of existing rearview mirror

Choice of

[A]

OEM Style Mini Camera with Low Lux Night Vision,

[B]

OEM Camera with Infrared Night Vision or

[C]

Flush Mount Camera with Low Lux Night Vision .

Factory and Custom Camera Options Available at an Additional Charge

3 Year / 36,000 Mile Warranty
Full Mirror When
Not Backing Up!
Built by the Industry Leader
Gentex first introduced auto-dimming technology in 1987. Since then, mirrors have become advanced electronic modules offered on more than 330 vehicles worldwide. You can be sure that the accessory mirrors are the same high-quality products that are designed, engineered and manufactured as original equipment.
$450.00 INSTALLED*
Includes Professional Installation at your home or workplace in All of NJ & S.I., NY Only.
NY, PA, CT - $50 to $100 Travel Surcharge.
Call 732-360-SAFE for details.
Most Vehicles. Some vehicles requiere a mounting adaptor and/or other parts at an additional charge.**
Universal Wedge Mount Kit
(For Vehicles with Proprietary Mirror Mounts when No Adapter is Available. Adds a Factory Grade Wedge Mount to Your Windshield)
Add $25.00
Ford Sync Microphone Kit
(For Mirror with built-in Sync Microphone)
Add $115.00
** Not sure what kind of mount is in your vehicle?
Please call us at 732-360-SAFE to insure compatibility with your vehicle!
Mirror Mounting Solutions
HONDA Wedge Mount Adapter
Add $15.00
VW/Audi Wedge Mount Adapter
(For VW/Audi with Manual Flip Mirror Only)
Add $45.00
HomeLink® and the HomeLink® House are registered trademarks of Johnson Controls. Inc.
OnStar® is a registered trademark of General Motors, Inc.
O
OnStar


Options
Auto-Dimming Mirror
with Compass
Add $125.00
Auto-Dimming Mirror
with Compass & Temperature
Add $200.00
Auto-Dimming Mirror
with Homelink® & Compass
Add $225.00
Auto-Dimming Mirror
with Homelink® & Compass & Temperature
Add $300.00
Have a GM Vehicle with an OnStar® Mirror?
CALL 732-360-SAFE
FOR AVAILABILITY OF A GENTEX AUTO-DIMMING MIRROR MONITOR WITH OnStar® FOR YOUR GM VEHICLE**
** Vehicle must already be equipped with an OnStar® Mirror. Will not add OnStar® to your vehicle! OnStar® Mirrors feature a 3.5" Color LCD Monitor.